Livermore is home to some of California's oldest wineries and a storied history of viticulture, and yet his area on the far eastern side of Alameda County is perhaps regarded most as a commuter town: the place off Interstate 580 with those windmills in the distance, rather than an idyllic spot for wine.
But the prominence of wine tasting in Livermore has changed over the past 15 years. There are more than 60 wineries and about 96,000 acres of wine grapes in the Livermore Valley American Viticultural Area (AVA).
Nearly a century before Chateau Montelena and Stag's Leap Wine Cellars of Napa triumphed at the famed Judgment of Paris in 1976, Livermore's Cresta Blanca Winery was crowned the Grand Prix winner at the 1889 Paris Exposition. This honor marked the first time a California wine beat the competition in France.
Livermore's terroir benefits from the east-west orientation of its valleys, along with a warm growing season that's tempered by the San Francisco Bay's cooling breezes. Red varieties tend to thrive here, especially Petite Sirah, Cabernet Sauvignon and Zinfandel.
The following lineup represents some must-stops as you explore the Livermore Valley. It starts from the northern end of Livermore and runs west, before taking a counter-clockwise loop through the heart of its wine country.
THE LIVERMORE WINERIES
Vasco Road is your entry point. At first glance, the scenery is more bedroom community than Bordeaux. But within just about 2 miles, a land of wine awaits.
Our first stop isn't a vineyard but an industrial park. Sample full-bodied Zinfandel, Bordeaux varietals and more at Wood Family Vineyards. Its recently opened tasting room sits adjacent to a warehouse that contains its winery operations. Chances are members of the Wood family will be on hand in the laid-back tasting room, possibly offering samples of cheese and chocolate to pair with their wines.
Next, drive a mile northeast to Wente Vineyards, which has produced wine in the Livermore Valley since the late 1800s. There are two tasting rooms on this property. Sample current releases such as fizzy Small Lot Brut and estate-grown Chardonnay at the Estate Tasting Room. Or, head to the Winemakers Studio for flights that focus on reserve wines and special blends such as the aromatic Artisan White. Fuel up on roasted prawns or an Indian spin on fried chicken at the Wood Fire Kitchen, a food truck on Wente's patio.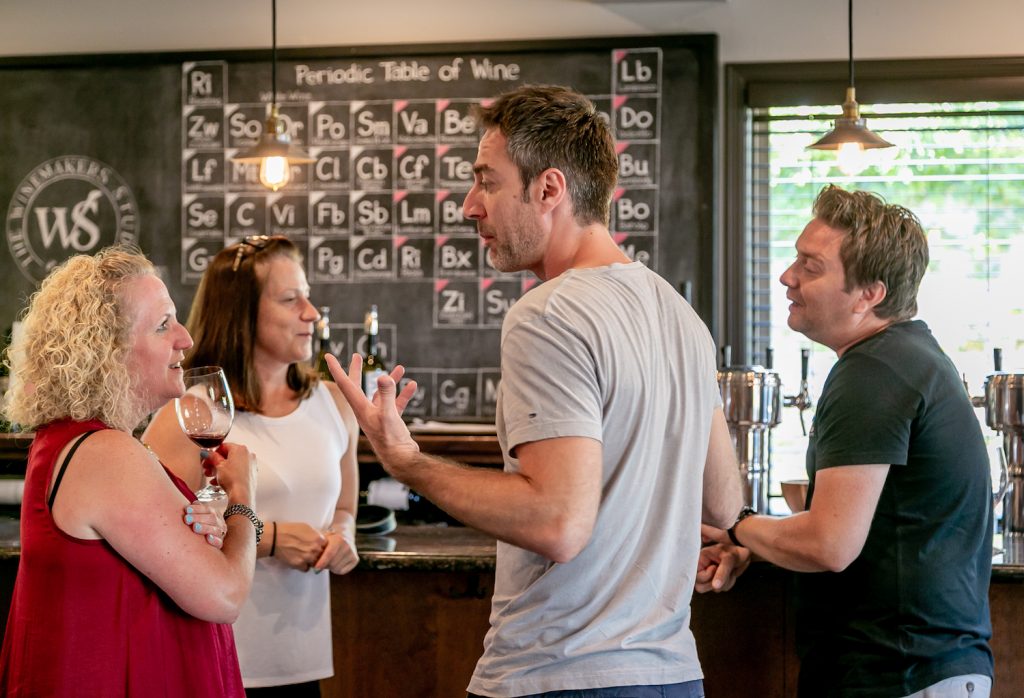 Head a mile west on Tesla Road to another historic Livermore site. The sprawling Concannon Vineyard estate is likely to be packed on the weekends, but wine history buffs who don't mind the occasional party bus will definitely want to see the mini-museum to the side of the tasting room. Concannon, after all, is credited as the first U.S. winery to bottle a varietal Petite Sirah. There, display cases trace the winery's history to the late 1800s with bottles, awards and other artifacts.
Double-back and turn onto nearby Mines Road for a stop at Murrieta's Well, a property with a lineage that dates to the 1800s. Tastings are by reservation only so they might be able to squeeze you in if you call. It's worth a try for the overall consistency of the wines, and be sure to sample the Petite Verdot.
One of the best stops for all of Livermore wine is just a few miles away on Tesla Road. Look for the funky farmhouse that doubles as the tasting room for BoaVentura de Caires Winery. Smooth and balanced Cabernet Sauvignon is the specialty here, along with Portuguese-influenced wines.
About 2 miles west, on Greenville Road, is McGrail Vineyards and its picturesque views of the valley. Savor the acclaimed Cabernet Sauvignon and unwind with a round or two of bocce ball near the lawn.
Finally, head across the street to Bent Creek Winery, a small estate with bold wines, that's tucked about a quarter mile from the road. You'll find plenty of elbow room here in a serene setting that's framed by vineyards.
Before dinner, have a flight of Livermore wines at First Street Wine Co., a cozy bottle shop and wine bar that draws a friendly mix of locals and visitors.
Those at the bar will tell you the best restaurant wine list in Livermore is across the street at Uncle Yu's at the Vineyard. Owner Nicholas Liang is a sommelier so it's no surprise this Asian restaurant features an epic wine list that ranges from Livermore's finest to rare Burgundy.
Grab a seat at the bar if you're feeling casual. Order the mu shu pork, a rich glass of Cuda Ridge Black Label Cabernet Sauvignon from Livermore, and toast to a thriving wine region in the East Bay's backyard.
A good place to end your night is at Purple Orchid Wine Country Resort and Spa, near the heart of Livermore's wine country. If you want boutique accommodations instead of a hotel chain, this is your spot.
By Chris Macias on The Press: https://thepress.sfchronicle.com/article/livermore-wineries/